As an innovative hybrid vehicle, the 2018 Hyundai Ioniq Hybrid, available now to Delphos area drivers, gets an EPA-estimated 58 miles per gallon when the electric battery is charged. Our Hyundai dealer breaks down today how to schedule your Ioniq battery charge so you're always ready for the road.
On the homescreen of your digital touchscreen display on the dashboard, press the EV icon to access all of the EV diagnostics and information. The three icons immediately visible in that screen are range, distance to nearest charging station, and energy information. Click into energy information to find out how long it will take to charge the battery to 100% based on different level chargers. DC chargers work the quickest, and 120V and 240V AC chargers take longer.
By clicking on Charging and Climate Settings on the home screen, you can set a charging schedule for your Ioniq to work in sync with your work schedule so you're always ready to go and your Ioniq is always maximizing its fuel efficiency. You can always override this by clicking "Charge Now" on the same screen, or by clicking the physical button located on the car.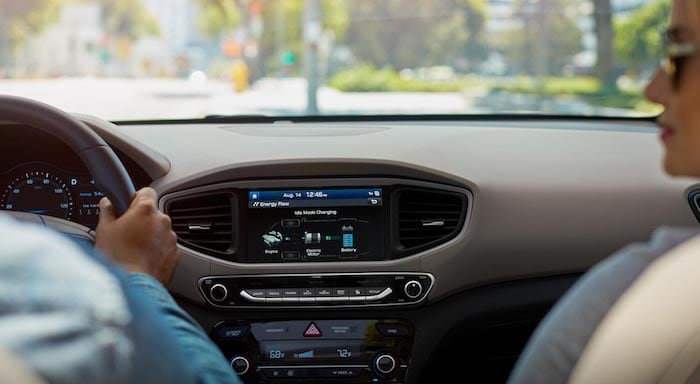 Delphos Area Drivers Can Get An Ioniq Today
For eco-conscious drivers, the Ioniq Hybrid is the go-to choice when you want something that's easy on your wallet and the environment, plus adds a bit of its own unique flair with head-turning design and a surprising amount of cargo space with the hatchback rear opening. Delphos area drivers can take a look at our selection of Hyundai Ioniq Hybrid models for sale today to see which one fits their needs best.
Contact us today to ask about the availability of our Hyundai Ioniq Hybrid models or to schedule a test drive. We're looking forward to getting you behind the wheel of your next dream car!