Increase the longevity of your vehicle by bringing it in for regular maintenance. With so many places to choose from, you may be left with many more questions than answers. Our service advisors are here to help, and we assembled this list of service FAQs that can assist with your decision. As
your first-class car service center
, our factory-certified technicians do many tasks, including oil changes and more meticulous repairs. Our state-of-the-art facility is home to modern equipment that makes each repair precise, and we use genuine OEM parts. Check out our car service FAQs list below, and schedule your next maintenance visit with
Tom Ahl Hyundai
.
Q: May I bring any vehicle for service?
A: We get this service FAQ many times, and our highly trained technicians work on nearly all brands and models. Bring your vehicle to us, no matter the make or model, and we will keep it running at optimal performance.
Q: When do I need an oil change?
A: The distance traveled between oil changes varies with each model and a person's driving style. Generally, a vehicle can run between 5,000 and 7,500 miles after an oil change. Ask a service advisor about creating a maintenance schedule.
Q: What does it mean when my check engine light comes on?
A: The answer to this service FAQ comes with many possibilities, from needing to tighten the gas cap to something more rooted. When it does come on, visit our certified technicians, and they can run a full diagnostics test to learn more.

Q: How long until I have to change my filters?
A: The engine and the cabin each have an air filter, and they should be replaced about every 30,000 miles.
Q: When should I rotate my tires?
A: We get this FAQ for service a lot, and typically it is best to rotate your tires between 6,000 to 8,000 miles or every six months.
Make A Service Appointment Today!
The Tom Ahl Hyundai professional service staff is here to help with all your automotive maintenance needs. Complete our appointment form below, or visit the service center today!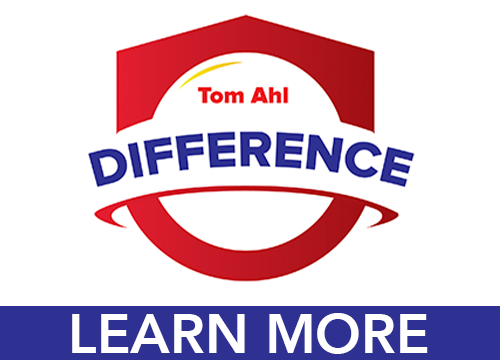 Hours
Monday

9:00am - 7:00pm

Tuesday

9:00am - 6:00pm

Wednesday

9:00am - 6:00pm

Thursday

9:00am - 6:00pm

Friday

9:00am - 6:00pm

Saturday

9:00am - 3:00pm

Sunday

Closed