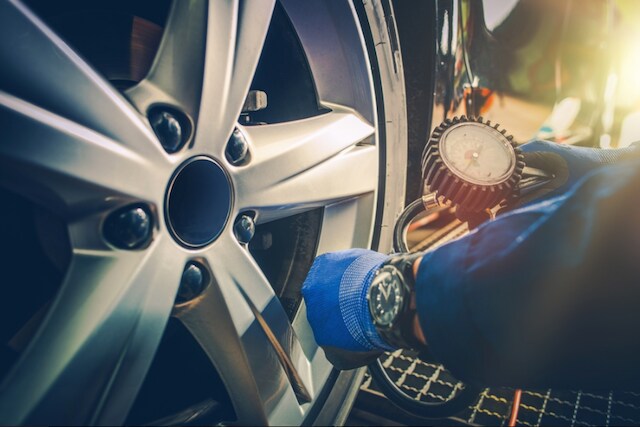 Tires rotated and balanced may seem unimportant. However, this process is critical to the overall health of your vehicle and alignment. These are two separate procedures where the mechanic rotates the tire to ensure the tires are being evenly worn out. For balancing, it checks the weight of the tire to see if its normal. Our Lima service center wants Hyundai drivers to get this done to their vehicle at appropriate benchmarks. If you are unsure why and when to get your rotated, keep reading on.
Why Should I Rotate My Tires?
Protection: One of the most important reasons to rotate your tires is safety. Tread is required in the tires to increase traction with the road. This is important for all of those Ohio winters and rainy springs!
Saves You Money: Getting your tires turned at the right times will increase its life expectancy. Instead of having to buy tires much sooner, getting a rotation will delay that from happening. Plus, rotations do not cost that much to have performed at our mechanic shop.
When Should I Get Them Rotated?
While it may vary based on your Hyundai, typically tires get rotated every 7,000 miles. The best way to remember this is when you change your oil, we suggest getting your tired rotated.
Why Should I Balance My Tires?
Ensure A Comfortable Ride: If you notice vibrations in your driving, but it's not coming from the brakes, it is most likely due to the uneven tires. Our tire balancing machines can correct vibrations as little as 1/4 ounce difference. If you ignore them, they will become worst and worst. This will increase the wear and tear of your vehicle and potentially affect your alignment.
Takes Pressure Off Your Steering Our Hyundai models are meant to be driven smoothly without forceful jerks of the steering wheel. If you notice this, then its time for a balance.
Would You Rather Buy New Tires Or Spend A Little Money Balancing? We said it for rotating and we'll make the same point for balancing: balancing your tires now will save you money down the road. Instead of spending extra money that you don't need to at the moment, spend a few bucks on getting your tires balanced! Tires can last for a long time as long as you give it the proper care it needs.
When Should I Get Them Balanced?
Our Hyundai auto repair in Lima suggests getting them balanced between 4,000 to 6,000 miles. While your manufacturer's handbook can give you more insight, people often get their tires rotated and balanced. Additionally, when you get new tires, your wheels will be balanced.
On average, the front tires tend to wear down first before the rear tires. That's why it's common for people to buy two new tires versus getting all four at once. If you have any questions about tire rotations or balancing, please contact us at (888) 263-9037.